Description
Snow Shovel Ice Scraper Breaking Pusher Remover Equipment Tool 55" Heavy Duty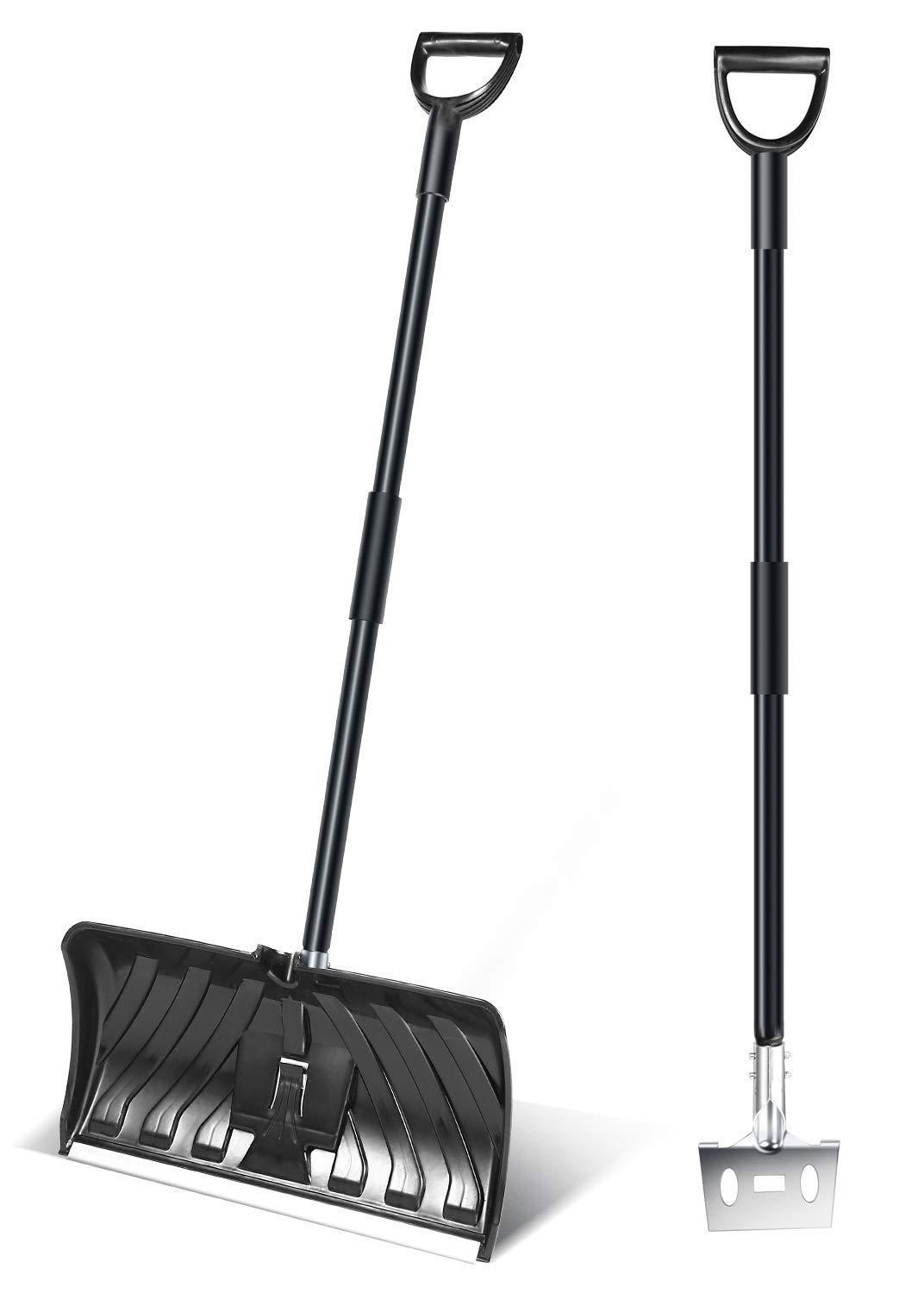 Summary
☃️ 2-in-1 Multipurpose Tool: This handy gadget is a snow shovel and ice shovel all in one! You'll be able to clear your walkways and end your winter woes quickly and easily
☃️ Countless Uses: Think this shovel is just for snow? Think again. This versatile tool is also great for shoveling sand, soil, leaves, and more
☃️ Built to Last: Crafted from premium material, the Ohuhu 2-in-1 Multifunction Snow Shovel will last for years on end. It's ultra-sturdy, rustproof, and can lift an incredible 33 lbs (15 kg)
☃️ Ergonomic Handle: The specially-designed D-shape handle provides easy, pain-free shoveling. The plastic grip and extra-long (5.5ft/ 1.4m) handle provide extra leverage and make use easy as can be
☃️ Bonus Accessory Kit: We've included an accessory kit for quick, effortless assembly. You'll have everything you need to assemble (and disassemble) your shovel in a few quick minutes
Ohuhu 2-in-1 Snow Shovel Ice Breaking Shovel, 55-INCH Collapsible Multipurpose Metal Snow Pusher Shovel, New Efficient Snow Remover
Durable & Heavy-duty This jumbo snow shovel (22 x 11.8in) with built-in ice scraper (7.7 x 5.7in) are made from high-quality material that will outlast years of use and abuse. The shovel will plow through snow banks with ease, capable of lifting 33 lbs at once!
Endless Possibilities With this 2-in-1 multifunction snow shovel, you'll be able to shovel snow or ice and clear your walkways, steps and driveways with ease. Weather warming up? Use this shovel for gardening, landscaping, and more.
User-Friendly Design We've designed this shovel with your comfort in mind. The D-ring handle ensures pain-free use, even after hours of non-stop use. You'll also receive an all-inclusive accessory kit for easy assembly.
Package Contents
1x Handle

1x Sponge grip

1x Upper handle

1x Lower handle

1x Ice shovel

1x Snow shovel

1x Accessory kit

1x User manual
Operation Instruction
| | | | |
| --- | --- | --- | --- |
| Slide the handle to the upper shaft and screw it on tightly | You can sprinkle some water before putting the sponge grip on the shaft | Slide the upper shaft into the lower shaft and screw them together tightly with 35mm screws | Cover the joint between the upper and lower shaft with the sponge grip |
| | | | |
| --- | --- | --- | --- |
| Mount the ice shovel bracket onto the lower shaft, making sure to align the pre-drilled holes. Screw on the bracket with 40mm screws | Slide the shovel onto the bracket | Make sure the center tab on the shovel is inserted into the center slot on the bracket | Pull the buckle from the inside of the shovel when detaching the ice shovel |